Herbert Wagger
2 May 2012 07:56:19
At this year's CeBIT young companies, pioneers and avantgarde thinkers had the chance to participate in the CODE_n Contest with their business idea.
INTRANET-Consulting
was under the finalists of the
CODE_n
innovation contest. Code_n is fostering the world's best IT-based business concepts, searching for daring innovators who have "the code for the new". (
Whatch-out this video
)
One use case of our presentation did have special interest:
The calendar of the future.
Therefore please find my summary as follows:
Social Media has created disparate data silos. The calendar is the single greatest respresentation of the way we spend our time, with whom, how long, where we go private as well as in business. It is the logical container for these data streams. The "Waggerian calendar" connect them all together to provide context to the user. It is the starting point for all social activities. Moreover by utilizing semantic technologies, it is the "brain" of the user and posts helpful information to an activity stream (travel information, recommendations, memories, location-based-services and more).
The new Calendar is about measuring the way we want to spend our time against the way we actually do, and helping us to align our professional lives against our personal goals. It's life…optimized.
We need a new user interface and functions that fits our social, mobile, dynamic and connected lives.
Semantic technologies are applied for content interpretation and analysis. This allows for putting the large number of small information fragments (e.g., calendar appointment subjects) into correct context by exploiting user and profile data. As a result, a customized universe of discourse (dynamic ontology) is generated for each user that enables any kind of subsequent evaluation. Presentation via device independent 2D&3D visualizations. The center of the graphical user interface is a highly interactive 360° infoverse (information universe). State-of-the-art technologies enable extensive navigation, exploiting elements such as multi touch screens, visual recognition and voice control.
Use case: Calendar entry for a meeting in Vienna
Calculate travel time and starting time depending on your preferred travel method (car, train, flight)
Route planning (in my use case I decided to go by car) - otherwise flight plan, etc.
Consider wheather and traffic conditions (would influence starting time)
Where did I check-in last time (via Forsquare) when I was in Vienna
Whom I promised to call and meet when I'm in Vieanna next time
Are there Events in Vienna that could be interesting for me ?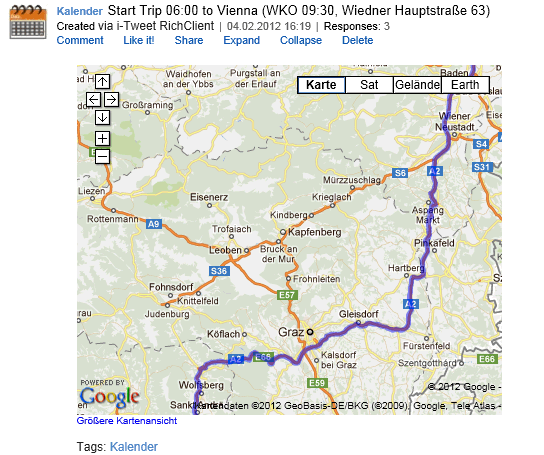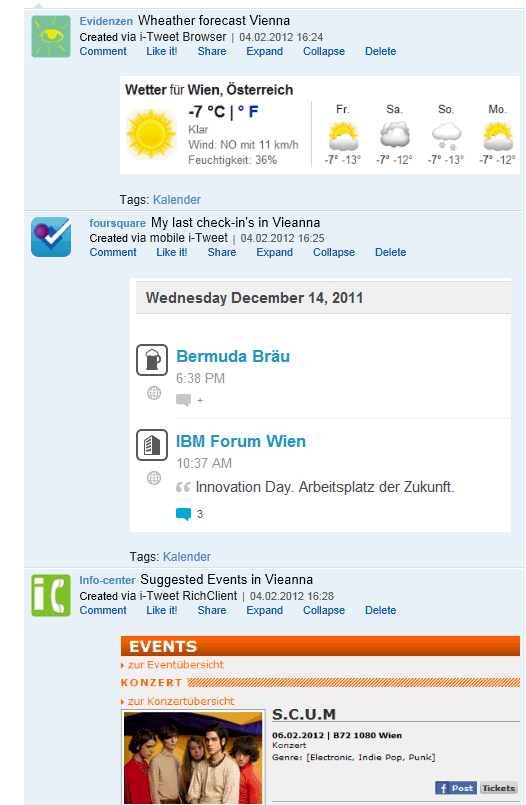 Comments Disabled